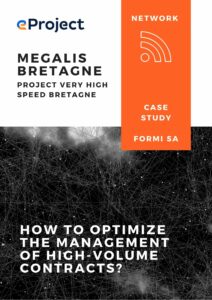 "We were able to appreciate the reliability of the platform, the availability of Formi's teams, their ability to respond to new problems and their flexibility, which allowed the solution to evolve according to our needs."
Download our case study and discover how this syndicate dedicated to the construction of fiber optic networks automated and simplified the management of its technical and financial documents using the eProject platform.
Find out in one click how:
Mégalis Bretagne obtains more transparency in the processing of its contracts
this large union automates the management of its documentary and financial data
eProject was able to adapt to the scope of the Mégalis Bretagne project
Markets divided into deployment areas and sub-assemblies that complicate management. Documentation and financial management needs.
• Flexible platform
• Efficient tracking of technical and financial documents
• Integration of internal accounting tools
• Time saving
• Respect of deadlines
• Better collaboration between the actors
• Efficiency and productivity